53" vs. 107"
The two most popular seamless paper sizes are 53" wide (about 4ft) & 107" wide (about 9ft). The first is recommend for headshots, while the second is recommended for full-body portraits and groups.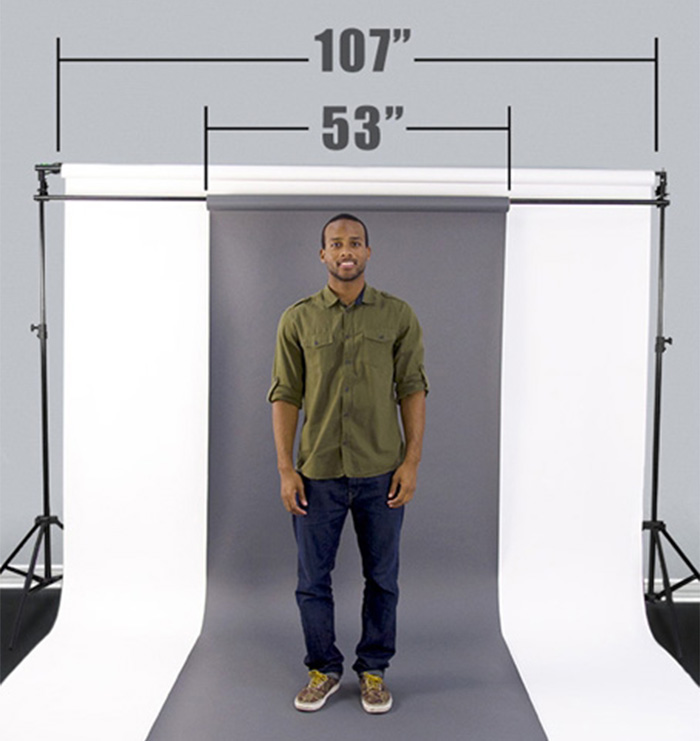 Other Seamless Paper Sizes
In addition to 53" and 107", seamless paper is also available in 4 other sizes. Below is a chart to compare the best uses for each size:
Size
 Best Uses
26in x 36ft
Crafting, banners and small product photography
53in x 36ft
Headshots, 3/4-body shots, kids, infants, small pets and small products. It's compact, easy to transport and easy to set up.
86in x 36ft

Ideal for full-body shots as it's easier to transport and set up than the 107" rolls. However, it's only available in 4 colors: black, super white, storm gray and tech green. 

107in x 36ft
Full-body shots, groups, cake-smash sessions and pet photography. Can be difficult to transport and set up.
Be sure to check that your studio space (& car) can fit a 9ft roll.
107in x 150ft
Intended for professional studios who go through large quantities of seamless paper. Very heavy and difficult to transport, hang and store. May require a freight delivery.
140in x 105ft
Requires freight delivery. Only available in 4 colors: black, super white, storm gray and tech green. 
This image compares a 107in (green), an 86in (gray) and an 53in (white) hanging from our Multiple Polevault Backdrop stand.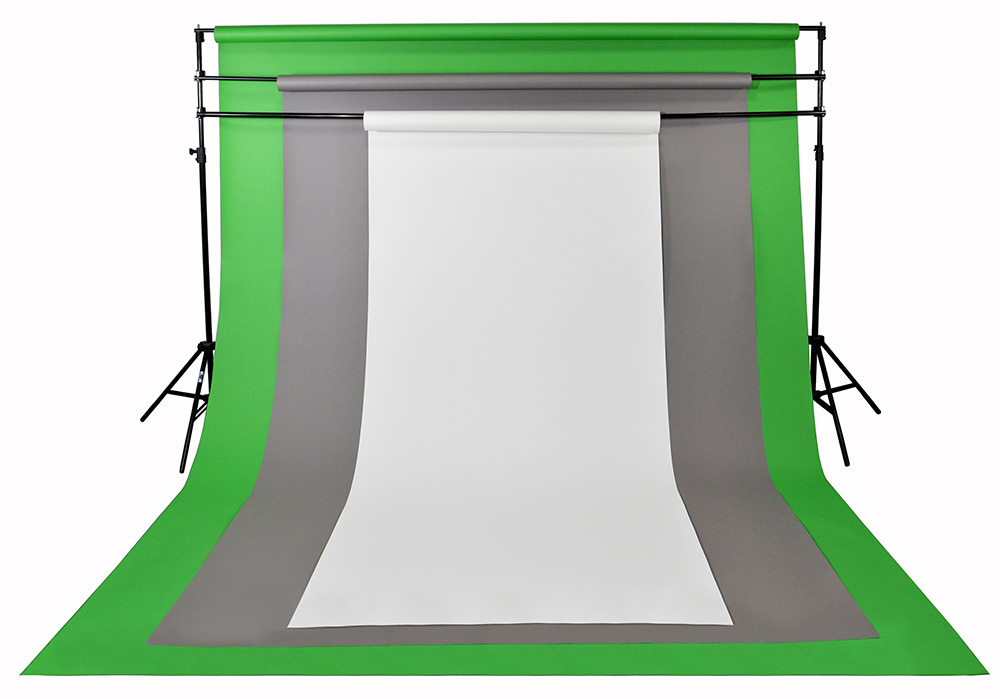 Cutting Seamless Paper Rolls
You don't need to stick with the available lengths of seamless paper if they don't quite fit perfectly into your studio space. If you need an in-between size like a 6 ft or 8 ft roll, a solution is to custom-cut your own length from a longer roll. Many photographers order 107" wide rolls so that they can cut them to a particular size for whatever they are shooting.
It's easy to cut your own seamless paper roll using a saw and a straight-edge. A common method is to use a mitre box, which can be found at hardware stores everywhere. This simple box allows you to place the roll of paper (or anything you wish to saw) inside while also providing a straight-edge against which to place the saw, ensuring an even, straight cut. Other types of saws with fine, sharp teeth would also work.